Sale in the Auction
Thinking about the sale of your own coins? Offer them for sale through an auction organised by KENDRO a.s. Address collectors and investors from all over the world!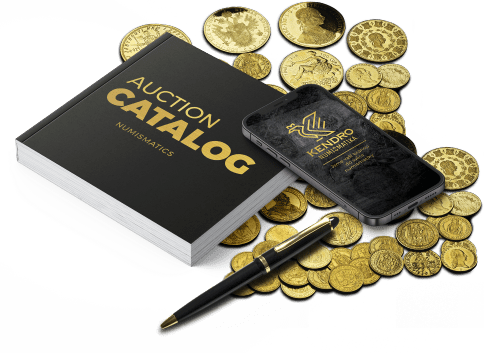 I would like to offer numismatic material for sale
Whether you would like to offer for sale only selected coins or your entire collection, our company will provide you with maximum support. There are many reasons for working with KENDRO Numismatics when selling your coins, for example:
We will address collectors from all over the world
Thanks to our long-standing contacts in this sector, we will introduce your coins to the right collectors and investors, not only from the Czech Republic, but from all over the world.
We will sell your coins at attractive prices
We will present your coins to the right audience and we will take care of their high-quality presentation. The auction method of sale and targeted promotion of the offer promises an attractive final price and your maximum profit.
Zero entry fees
We offer fair and transparent conditions to suppliers of numismatic material – wedo not charge any entry fees.
How to sell coins in an auction?
It is very easy to offer your coins to collectors and investors from all over the world through the auctions organised by KENDRO, a.s. There are a few simple steps leading to a successful sale. Feel free to contact us with your offer.
1

Do you want to sell coins? Please contact us.

You can use, for example, a simple form at the bottom of the pagefor this purpose.
2

We will contact you and arrange for a meeting.

We will prefer to meet you at our Prague office at a time which is convenient for you.
3

We only take over numismatic material in person.

All coins will be examined and checked for their condition and authenticity.
4

We will enter into a contract before accepting the coins for an auction.

During the meeting we will take photographs of the coins and we will prepare all necessary documents.
5

In case of particularly valuable items, we offer to make an advance payment.

Depending on the condition and value of the specific items, the advance payment may reach up to 50% of the total value of the coins.
New auction? Let me know by email
By entering your e-mail address, you agree to the terms and conditions of personal data protection. You can unsubscribe from receiving e-mail messages at any time.
Do you have a question? Please contact us.